Kris Lang Sports Complex Hosts First Event to Benefit BOSS Nonprofit
Gastonia Native Creates One-of-a-Kind Sports Complex to Give Back and Grow

BELMONT, NC – Kris Lang, UNC Chapel Hill standout and 16-year professional basketball veteran has come home to Gaston County to open Kris Lang Sports Complex (K.L.S.C.) and its subsequent nonprofit, Build On Self Success (BOSS). Lang will host his first major event at K.L.S.C., October 1, 2022. starting at 1 p.m.
Dubbed the K.L.S.C. 3 Point Shooting Contest and K.L.S.C. Skills Challenge, these events will offer local residents of all ages the opportunity to participate in NBA like skills challenges while enjoying the only basketball skills development center in the area owned and operated by a former Mr. North Carolina Basketball, 4-year UNC Chapel Hill starter, and tenured professional basketball player.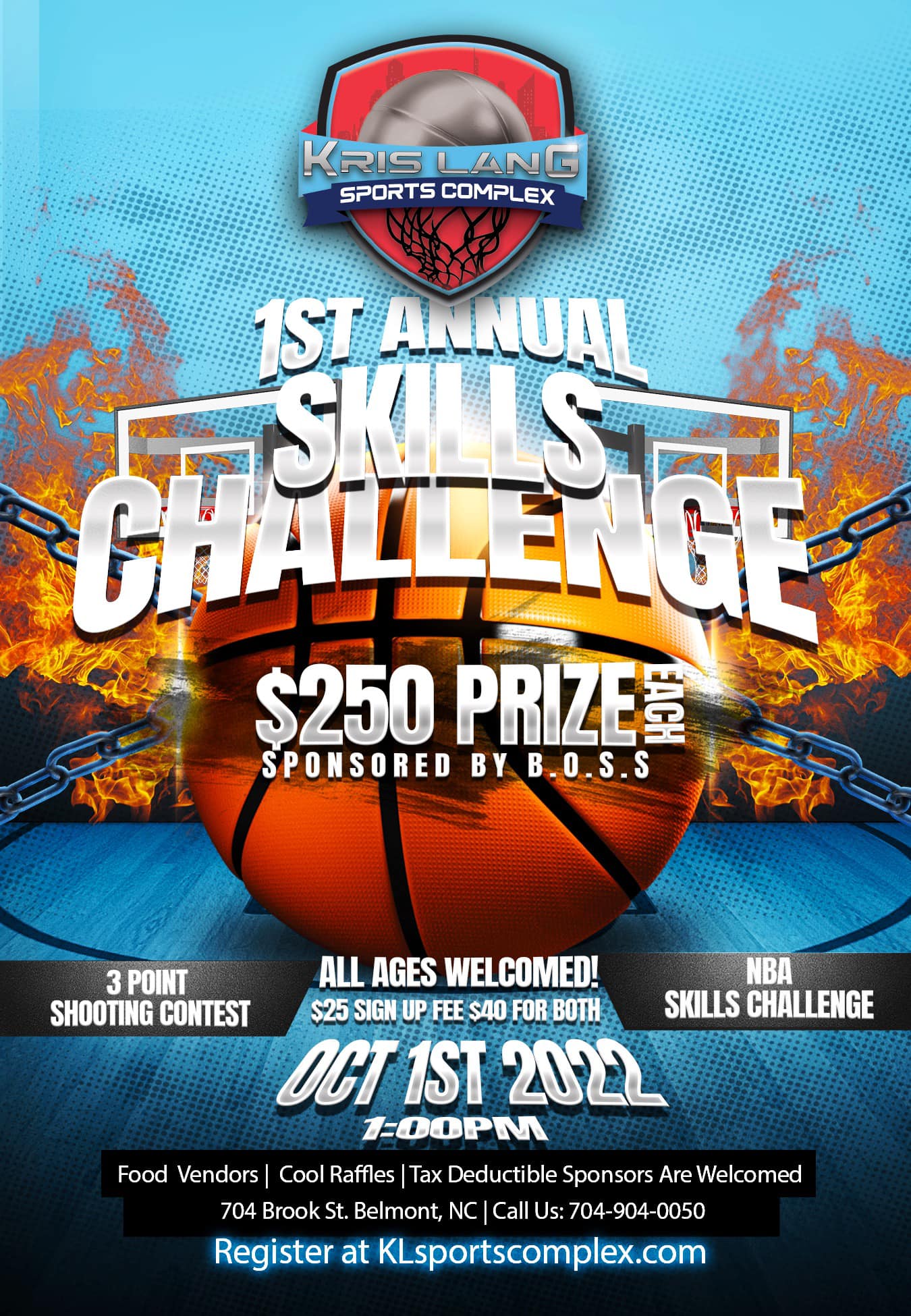 Lang's focus is beyond basketball development and wants to create an environment based on the principles he's learned and implemented throughout his professional career and personal life.
"It's a top priority of mine to give back to the next generation," Lang said. "My goal is to provide educational opportunities for our local youth, as well as a safe place to come, play, dream and succeed. The kids in Gaston County and surrounding areas now have an opportunity to go to a safe indoor location that encourages a physically active lifestyle and exemplifies the Play like a BOSS mantra of Built on Self Success. When you practice a sport, or simply become more physically active, you can learn a lot about yourself, about your friends, and participate in building a stronger community."
EVENT DETAILS
Entry fee is $25 per contest or $45 for all contests

Entry is free for spectators

The event starts at 1 p.m.

Winners receive $250, a trophy, and bragging rights

Vendors will be on site

Vendor opportunities are available
K.L.S.C. is located at 710 E. Catawba Street, Belmont, Suite E.

ABOUT KRIS LANG
Kris Lang is a former Mr. North Carolina Basketball and a McDonald's All American team member. He played for the University of North Carolina as a 4-year starter where he was on the ACC All-Freshman team as well as a starter on the 1999-2000 Final Four team. After 16 years of playing professional basketball in Europe and South America, Lang returned home to Gastonia to create opportunities for students in his hometown who need a place to learn, grow, and develop.
ABOUT KRIS LANG SPORTS COMPLEX
K.L.S.C. is a refurbishing project from an old Carolina textile mill to the brand-new into a brand-new indoor basketball facility and high-end sports complex. The newly remodeled gymnasium has been decked out in fresh Carolina blue and red paint with new basketball flooring and rims along with the forthcoming all-access fitness center. At center court there is the logo KLSC "Play Like a BOSS", Kris Lang's signature statement. On the wall along the sideline are in-game action murals and with motivational quotes sprinkled throughout the facility, one being "Get Better Today". Another, "Play Hard, Play Smart, and Play Together", was a favorite quote from Kris Lang's former UNC Head Coach Dean Smith. Coach Smith recited this encouragement to his players as they crossed the blue line before each Carolina Basketball game.
K.L.S.C. provides an inclusive and welcoming environment for area youth, families, and gym goers to hit their health and fitness milestones, regardless of their experience level. Open 24 hours a day, seven days a week, this new complex brings a professional level of training to all members. An afterschool program hosts youth transported from local schools. The facilities after school program offers homework support, encourages physical activity and is open to all youth in the local area.
K.L.S.C is a registered trademark of The Kris Lang Sports Complex K.L.S.C. L.L.C. and B.O.S.S. is a registered trademark of Built On Self Success, N.P.O. in the United States and/or other countries.
Website: www.klsportscomplex.com